Collaborating on regional research to inform decision-making at the intersection of offshore wind and fisheries
Offshore wind is expanding along the US East Coast–deepening interest among those active in Atlantic waters in better understanding interactions between offshore wind and ocean ecosystems.
With offshore wind projects spanning multiple states and many organizations launching research, a coordinated approach is needed to ensure credible data is collected and shared.
Leading Regional Offshore Wind and Fisheries Research
The Responsible Offshore Science Alliance (ROSA) is a nonprofit organization leading a collaborative effort to advance research and monitoring on the potential effects of offshore wind on fisheries.
At the heart of ROSA's work is a community–of fishermen, offshore wind developers, academics, government representatives, and others–united behind a common goal: objective, collaborative science. Together, we aim to generate scientific data to support effective decision-making and policy.
We are the only entity working full-time on offshore wind and fisheries research:
Setting research priorities
Enabling collaboration among scientists
Reducing redundancy
Providing scientific leadership
Administering research (forthcoming)
Committed to Inclusivity and Transparency
We welcome everyone who is interested in our mission. Anyone with knowledge of fish, fishing, or offshore wind can contribute significantly to our efforts. One need not be a scientist to participate in ROSA projects.
We approach our work with an inclusionary lens:
• Everyone is welcome at our meetings
• Meeting records are posted on this website
• All products we develop are open source
Lend Your Knowledge
Attend Our Meetings
Join a Committee
Participate in Research
Help Design Research Tools
Learn How to Get Involved
Recent News & Upcoming Events
Working Together to Resolve Environmental Effects of Wind Energy (WREN) is requesting information on new technologies to include in the Wind Energy Monitoring and Mitigation Technologies Tool on Tethys. The free, online tool serves as a catalog of available technologies used to assess and reduce potential wind-wildlife effects, including related research on their use and effectiveness. Please complete this short survey to contribute technologies for consideration!
ROSA's submission for a Session at the World Fisheries Congress in Seattle, March 3-9, 2024, titled Pathways for a sustainable co-existence of offshore energy, fisheries and marine conservation: From local empirical evidence to global perspectives has been accepted. The 'Call for Abstracts' is opening soon.
With the support of consultant WSP, ROSA has created a two-part database to help with research prioritization: one that synthesizes existing research priorities and one that compiles research being undertaken by programs along the East Coast. The analysis of data in these databases highlights gaps in research that can inform future research. View the database, and manual that outlines how to best use the databases and how they were created.
Research Spotlight
Trawl Survey Net Modification Experiment Under Way
ROSA Research Director Mike Pol and other members of the Northeast Trawl Advisory Panel (NTAP) are engaged in an experiment on the F/V Darana R, Jimmy and Bobby Ruhle's vessel, exploring a modification to trawl survey nets that could help standardize studies in offshore wind energy areas.
Continue Reading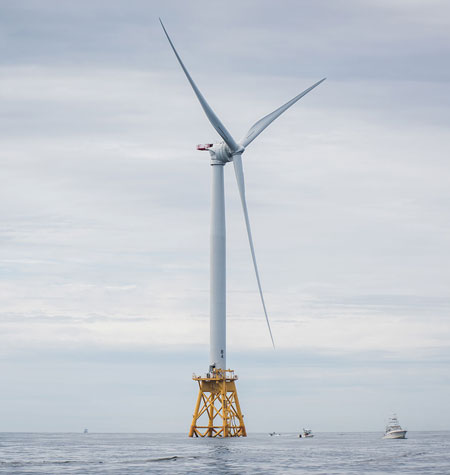 Resource Spotlight
ROSA Publishes Data Standardization and Sharing Report
ROSA recently published a report highlighting results from a study on data standardization and sharing related to research on the potential impacts of offshore wind on fisheries. Continue reading to learn about the key findings and ROSA's recommendations.
Continue Reading