Collaborating on regional research to inform decision-making at the intersection of offshore wind and fisheries
Offshore wind is expanding along the US East Coast–deepening interest among those active in Atlantic waters in better understanding interactions between offshore wind and ocean ecosystems.
With offshore wind projects spanning multiple states and many organizations launching research, a coordinated approach is needed to ensure credible data is collected and shared.
Leading Regional Offshore Wind and Fisheries Research
The Responsible Offshore Science Alliance (ROSA) is a nonprofit organization leading a collaborative effort to advance research and monitoring on the potential effects of offshore wind on fisheries.
At the heart of ROSA's work is a community–of fishermen, offshore wind developers, academics, government representatives, and others–united behind a common goal: objective, collaborative science. Together, we aim to generate scientific data to support effective decision-making and policy.
We are the only entity working full-time on offshore wind and fisheries research:
Setting research priorities
Enabling collaboration among scientists
Reducing redundancy
Providing scientific leadership
Administering research (forthcoming)
Committed to Inclusivity and Transparency
We welcome everyone who is interested in our mission. Anyone with knowledge of fish, fishing, or offshore wind can contribute significantly to our efforts. One need not be a scientist to participate in ROSA projects.
We approach our work with an inclusionary lens:
• Everyone is welcome at our meetings
• Meeting records are posted on this website
• All products we develop are open source
Lend Your Knowledge
Attend Our Meetings
Join a Committee
Participate in Research
Help Design Research Tools
Learn How to Get Involved
Recent News & Upcoming Events
Funding provided for New Jersey's entry into the Responsible Offshore Science Alliance (ROSA), a nonprofit organization leading a collaborative effort advancing fish and fisheries research related to offshore wind: https://nj.gov/dep/newsrel/2023/23_0025.htm
We appreciate the support of the New Jersey Research and Monitoring Initiative. This funding contributes to regional efforts to identify and address data gaps in our understanding of the effects of offshore wind on fish and fisheries. Dr Mike Pol, ROSA's Research Director, said "ROSA is grateful to New Jersey, other states and our other funders that make possible our efforts to fill in gaps in our understanding of the issues around development."
The Responsible Offshore Science Alliance welcomes the publication of the NOAA Technical Memorandum Fisheries and Offshore Wind Interactions: Synthesis of the Science, and congratulates the collaborative team of authors and contributors. This report represents an important cumulative effort of stakeholders in the region to synthesize relevant current and past research on the interactions of offshore wind development, fisheries, and the marine environment. Dr Mike Pol, ROSA's Research Director, said "ROSA is proud to have played a role in handling peer review of the report, and the recommendations from this report have been incorporated into our regional research database and data gap analysis, Fish FORWRD, and will be used to optimize future research in the region."
Research Spotlight
Trawl Survey Net Modification Experiment Under Way
ROSA Research Director Mike Pol and other members of the Northeast Trawl Advisory Panel (NTAP) are engaged in an experiment on the F/V Darana R, Jimmy and Bobby Ruhle's vessel, exploring a modification to trawl survey nets that could help standardize studies in offshore wind energy areas.
Continue Reading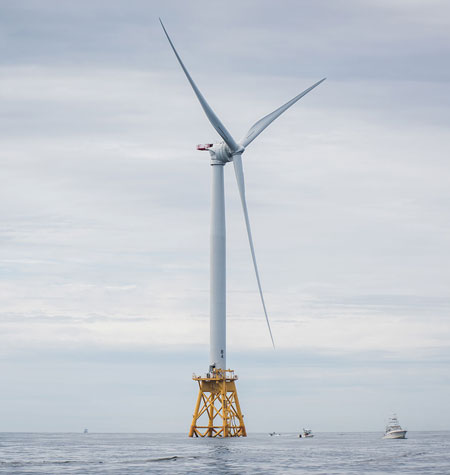 Resource Spotlight
ROSA Publishes Data Standardization and Sharing Report
ROSA recently published a report highlighting results from a study on data standardization and sharing related to research on the potential impacts of offshore wind on fisheries. Continue reading to learn about the key findings and ROSA's recommendations.
Continue Reading